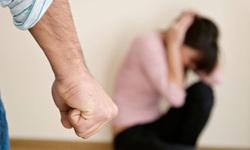 On Friday August 8, 2014 the Governor signed an
"Act Relative to Domestic Violence"
which imposes significant changes to arraignment, bail, detention, and criminal penalties in cases involving "domestic abuse." Below are some of the most significant changes:
Required 6 Hour Delay for Arraignment
. Under the new law, defendants charged with crimes involving domestic abuse are cannot be released within six hours of arrest, unless bail is set in open court by a judge.
Written Findings of Domestic Abuse Allegations
. At arraignment on any crime against a person or property of another, the court must inquire of the District Attorney whether domestic abuse is alleged to have occurred immediately prior to or in conjunction with the alleged crime. The prosecutor must file a written statement, and the judge must make written findings that domestic abuse is alleged. The judicial finding is then stored in the new "statewide domestic violence record keeping system." The statement will only be removed if the defendant is acquitted, or a no bill is returned; and will remain in the statewide database even if the case is dismissed.
Bail Considerations for Domestic Abuse Cases.
For defendants charged with a violation of a 209A or a crime of domestic abuse, the district court will not only consider the defendant's likelihood of appearing at future dates, but also the safety of the alleged victim, any other individual, or the community. Bail set out-of-court by any person authorized to take bail may now also include conditions of release in addition to or in place of cash.
Bail Revocation under 58B
. Failure to comply with a condition of bail, including picking up a new offense, now subjects all defendants to a 90 day revocation of bail.
120 Day Detention
. Detention after a Dangerousness Hearing is expanded from 90 days to 120 days in all cases.
Summoning Alleged Victim or Family Member and Use of Hearsay.
Under the new law when a defendant wishes to summons an alleged victim or alleged victim's family member to a dangerousness hearing, counsel must move in advance for permission of the court and demonstrate a "reasonable belief…that the testimony will be material and relevant to support a finding that there are conditions of release that will reasonably assure the safety of any other person or the community."
Reopening Dangerousness Proceedings
. Now, in addition to reopening proceedings to introduce information not known at the time of the hearing, proceedings may also be reopened by the court or either party when there has a been a change in circumstances that has a material bearing on whether there are conditions for release that will reasonably assure the safety of any person of the community.
Dangerousness information on CORI.
Under the new law, whenever a judge finds dangerousness to detain or impose conditions, the clerk must notify probation, who places the order of detention or conditions in both the defendant's CORI information and the statewide domestic violence record keeping system. If there is no finding of dangerousness, then the fact that a Dangerousness Hearing was made is STILL kept in the statewide system, but not CORI.
CORI for Employers
. Dangerousness information on CORI may be available to employers where they are permitted by law to obtain information on the underlying crimes.
New Crimes Created by the Statute
Domestic Assault, and Domestic Assault and Battery.
The statute creates a new crime of domestic assault and domestic assault and battery, G.L. c. 265 § 13M. The victim must be a family or household member, which is defined differently than under 209A § 1. The victim must be a current or spouse, have a child in common, or be in a "substantive dating relationship," to be determined by the trier of fact in accordance with the factors set forth in 209A § 1. PENALTY: up to 2.5 years house of correction and/or fine of up to $5000. The court is required to order the defendant to complete a certified batterer's intervention program for all convictions or CWOFs under the new law, absent specific written findings showing good cause to omit the requirement.
Subsequent Offense Domestic Assault or Assault and Battery.
The penalties are increased and the defendant is subject to a felony conviction for a subsequent domestic assault or assault and battery. PENALTY: up to 2.5 years house of correction, or up to 5 years in state prison.
Strangulation/Suffocation.
The law creates a new crime of strangulation, G.L. c. 265 § 15D, with concurrent district court jurisdiction. This may cause strangulation cases that otherwise would be charged as attempted murder to remain in the district court under this new offense. PENALTY: up to 2.5 years house of correction, or up to 5 years state prison, fine of up to $5000. Now with all crimes involving "domestic abuse," a batterer's program is also required.
Aggravated Strangulation
. For any strangulation offense resulting in serious bodily injury, or where the victim is pregnant, or where there is an active restraining order, or after previously being convicted of a strangulation offense, the penalty is increased. PENALTY: up to 2.5 years house of correction, or up to 10 years state prison. Batterers program is also required. The district court maintains concurrent jurisdiction over the aggravated offense.
New District Court Jurisdiction over Kidnapping.
The law gives the district court concurrent jurisdiction over kidnapping, G.L. c. 265 § 26. Although certain forms of kidnapping under § 26 do not have house of correction sentence alternatives, the amendment language appears to grant concurrent jurisdiction over § 26 broadly.
If you or a loved one has been charged with one of these new crimes or a crime where domestic violence is alleged to have happened near in time, it is essential that you have an attorney who understand the new statute. It is also important to have an attorney who knows how to challenge some of the statutes new procedural rules. If you would like a consultation,
contact
contact the
Law Office of Isaac Mass
.