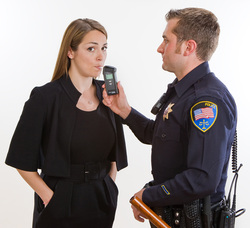 December 18th, 2012 , in Commonwealth v. Jones,
the
Massachusetts Supreme Judicial Court
held that it was ok to deny a defendant's right to admit into evidence that, shortly after he had declined to take a breathalyzer test, he changed his mind and requested but was not given the test.
On May 14, 2010, a witness was driving north on Route 10 in
Southampton
when she reported a pickup truck being driven erratically. The defendant was the driver of the truck and was stopped by the
Easthampton police
. The police administered a field sobriety test, and the defendant performed poorly. He was then placed under arrest.
The defendant, prior to trial, moved that he be permitted to testify that, at the police station, he initially declined to take a breathalyzer test, then "shortly afterwards" changed his mind and asked to take the test, but one was not administered. Although the prosecutor did not object, he wanted to introduce evidence that the defendant did not recant his initial refusal, and that he had also refused certain field sobriety tests and suggested the proposed testimony would "open a can of worms". The judge denied the defendant's motion.
The Supreme Court found, the judge acted within the scope of his discretion in excluding the testimony. The defendant sought to testify that, shortly after declining to take a breathalyzer test, he requested to do so. Such evidence could only exonerate the defendant by suggesting that he thought he was not intoxicated at the time the request was made. But the court has held that "consciousness of innocence is of very little value, because there are a variety of different motives that can prompt action consistent with innocence."
Commonwealth v. Espada, 450 Mass. 687, 698 (2008).
The court believes a recantation of an initial refusal to take a breathalyzer test is likely motivated by the desire to avoid
suspension of the suspect's driver's license
as it is with consciousness of innocence.
IF you have been arrested for operatining under the infulence or neglegent operation,
contact
the
law office of Isaac J. Mass
for a consultation.