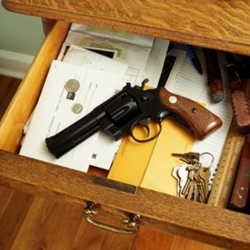 In Massachusetts, the Commonwealth has established strict firearm storage statutes and regulations. If someone does not follow those requirements and their weapon is stolen and then used in a shooting. The firearms original owner or the owner of the property where the firearm was stored may be liable.
That is what happened in
Jupin v. Kask, 447 Mass. 141, 142 (2006)
. The defendant shared her home with a gun collector who kept his guns in a cabinet. The gun collector's son, who had a history of violence and mental instability, had a key to the house and was given full access to the property. The son removed screws from the lock on the cabinet, stole a gun, and used it to shoot a police officer. The court held that the theft and subsequent use of the gun were foreseeable and that, as a matter of public policy, "there is a significant social benefit to be realized by recognizing a duty of the person in control of the premises to exercise due care with regard to the storage of guns on the premises, particularly with respect to those who have been granted regular access to it."
Jupin v. Kask, 447 Mass. at 153
.
If you or a love one has been injured by a stolen firearm, you may have a claim against the original owner. Each case is very fact dependent. For a free consultation
contact
the law office of
Isaac J. Mass
.