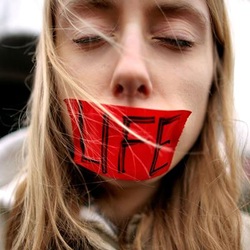 The Massachusetts Appeals Court started the year with a decision that is likely to gain the support of the pro-life community in the Commonwealth and throughout the country. In the
Guardianship of Mary Moe
, No. 12-P-18, the Appeals Court found that even an incompetent person could not be sterilized involuntarily. This is ratification of
Matter of Moe,
385 Mass. at 555 (1982), in which the Supreme Judicial Court held "[T]he personal decision whether to bear or beget a child is a right so fundamental that it must be extended to all persons, including those who are incompetent."
The judge in this case without request from the woman or her parents who he appointed as co-guardians ordered that after the abortion which the parents sought and the judge approved that the 32 year old schizophrenic woman who had previously had one abortion and given birth to a child who lived with the woman's parents should also be sterilized.
Massachusetts has a long history of Judges denying the rights of women to procreate under the 14th Amendment to the US Constitution. Chief Justice of the Massachusetts Supreme Judicial Court Oliver Wendell Homes who went on to serve on the US Supreme Court, famously wrote in Buck v Bell, 274 US, 200 "three generations of imbeciles is enough" when ordering the sterilization of a mentally retarded woman. The Holmes decision was used as justification for Nazi experimentation and sterilization programs at the Nuremburg Trials.
The Appeals Court also took the step of remanding the case for a hearing on the substituted judgment of the Guardian At-Litem who reported that Mary, if competent would have wanted to have an abortion rather than come off her medication. Mary who initially told the Judge that she "wouldn't want to do that" and that she was "very Catholic" was never afforded a hearing after the GALs report.