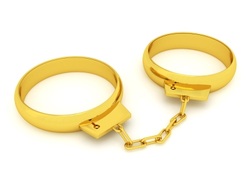 Massachusetts Appeals Court, in
Today, the
Cesar vs. Sundelin
, No. 11-P-351(2012)
found that in dividing a marital estate that includes a family business a judge of the Probate and Family Court has the authority to enjoin the party that no longer will have any ownership in the business from operating a competing business.

Although the court located no Massachusetts case that holds that a probate judge has specific authority to impose non-compete orders, the court looked the Supreme Judicial Court of Maine reasoned, "Without such an agreement, the substantial value of the intangible good will would be lost or the parties would be left to compete in recapturing this portion of their marital property." Lord v. Lord, 454 A.2d 830, 834 (Me.1983).

The Appeals court noted that the Massachusetts Supreme Judicial Court held more than one century ago, "[G]ood will is property, and is a valuable asset in [an individual's] business." George G. Fox Co. v. Glynn, 191 Mass. 344, 348 (1906). Therefore the court found that, the good will of a business is part of the marital property subject to equitable distribution, and a probate judge may exercise his equitable authority as necessary to effect the distribution. See Santagate v. Tower, 64 Mass.App.Ct. 324, 328 (2005).

The Appeals Court did recognize that the terms of any such order must be "reasonable and no broader than necessary to protect the good will included in the valuation and transfer." Lord v. Lord, supra. Cf. Wells v. Wells, 9 Mass.App.Ct. 321, 324-325 (1980) and ultimately remanded the case for such a determination.

It remains to be seen if this decision is further appealed as it gives great latitude to judges acting in equity in areas outside of the family and probate court. Historically, in Massachusetts there has been no equitable ability to impose a non-compete provision on parties. All of the case law on the enforceability of non-compete agreements are in the contractual context. See e.g.Richmond Brothers, Inc. v. Westinghouse Broadcasting Co., Inc., 357 Mass. 106 (1970) ("An employer is not entitled to protection against ordinary competition." ); Novelty Bias Binding Co. v. Shevrin, 342 Mass. 714 (1961) ("It has been long settled in this Commonwealth that a covenant inserted in a contract for personal service restricting trade or competition or freedom of employment is not invalid and may be enforced in equity provided it is necessary for the protection of the employer, is reasonably limited in time and space, and is consonant with the public interest. What is reasonable depends on the facts in each case.").

If you have a divorce which will involve a division of a family business, it critical that you have an attorney who understand non-compete agreements and can argue before a judge why any particular injunction against doing business is appropriate or overly broad based on its duration, location, and industry. Further you will need an attorney who can work with industry experts who can not only value good will, but also offer opinions on the impact of competition on that good will. If you have questions about your divorce contact the Law Office of Isaac J. Mass to arrange a no cost consultation.