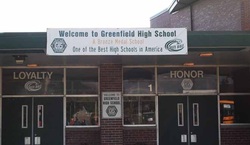 On Tuesday Greenfield, Massachusetts overwhelmingly passed a debt-exclusion for the building of a $64 million dollar High School. Greenfield which was plagued by problems in the construction of its Middle School resulting in federal litigation, will undoubtedly be pleased with the Massachusetts Supreme Judicial Court's decision today in Barr Incorporated v. Holliston, SJC 10899 (2012).
The court found that the competitive bidding statute places no restrictions on seeking information about contractors outside of the Department of Capital Asset Management's (DCAM's) contractor certification process.
While G.L. c. 149, § 44A (2)(D) requires contracts for the construction of public buildings estimated above $100,000 "shall be awarded to the lowest responsible and eligible general bidder." The town of Holliston solicited bids for the construction of a new police station for which Barr Incorporated, submitted the lowest bid. The town, however, subsequently determined that the plaintiff was not a "responsible and eligible general bidder," under G.L. c. 149, § 44A (2)(D), and awarded the contract to the next-lowest bidder.
In the town's investigation into Barr Incorporated, they first looked to information in DCAM's certification file on Barr, but also conducted an Internet search. Finding cause for concern as to the contractor's performance on past projects, the town administrator asked a detective in the town's police department, to conduct a more thorough investigation into Barr's projects. By contacting eight municipalities that had previously retained the Barr Incorporated as a contractor, the police found that six of them had an "overall negative" impression of the contractors work. Subsequently, the building committee after reviewing the report voted to find that the contractor was not a responsible bidder for purposes of G.L. c. 149, § 44D.

The court reminded us that "[s]purred by concerns 'in the press and elsewhere about corruption in the award and supervision of [public] construction contracts,' Ward v. Peabody, 380 Mass. 805, 806 (1980), in 1980 the Legislature enacted a wholesale reform of the Commonwealth's public bidding statutes, St.1980, c. 579, § 55, now codified at G.L. c. 149, §§ 44A, 44B-44D, 44E, 44F-44H (1980 statute). The court held, however, "under the 1980 statute, the entity responsible for making a final determination of bidder responsibility remains the awarding authority, not DCAM."
They further held, "nothing in either the statute or DCAM's regulations expressly precludes the awarding authority from conducting an independent investigation into the past performance of potential bidders. Moreover, the statutory requirement that awarding authorities in fact read and consider information related to a bidder's performance in at least some past projects does not support the inference Barr suggests, that the Legislature wished to prevent awarding authorities from considering the bidder's performance in a wider sample of such projects, as the town did here."