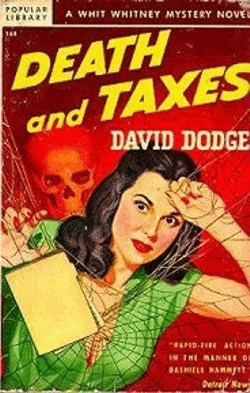 "The only two certainties in life are death and taxes." --
Benjamin Franklin
in a 1789 letter to Jean-Baptiste Leroy.
As we rush to our accountants feverishly with W-2, 1099's and Schedule C's, in anticipation of hopefully receiving a refund, it pays not only to prepare for next year's taxes, but also to prepare for death. Instead of procrastinating take this time and a portion of your refund to prepare the documents you will need for the end of your life. A will, durable power of attorney, heath care proxy and HIPPA form, will all help you and your loved ones when the time comes.
Here are some key questions to ask yourself about estate planning while you are preparing your taxes:
You might note that each dependent child currently earns you a $1,000 child tax credit. Who will take care of those children if something should happen to you. Your will can set out guardianship provisions for your child.
As you itemize the deductions on your Schedule C, small business people should ask themselves, "who will take over the business when I am no longer around; How will my family replace the income?" With so few family businesses left, you may need to set up a buy-sell agreement so that a partner or employee can buy-out your share of the business if you pass, or you may simply need an insurance policy to replace the income from a business that will dissolve without you.
As you are deducting the mortgage interest on your home, ask yourself, "Will this home go to my spouse or kids automatically or will it have to go through probate." Deeding your property properly will avoid any problems with probate.
As you report your modest interest on from your 1099-Div, ask "does my family know where all my bank and investment accounts are? Does someone have the ability to access all my accounts if I become disabled or pass away?" How will the mortgage, utilities and other monthly bills be paid, If you can't get to the bank? A Durable Power of Attorney or joint accounts may be the answer?
As you itemize your charitable deductions ask yourself, "could I give more if I donated differently?" Maybe a gift of stock would make more sense, because the charity would not have to claim the capital gain. What kinds of gifts to charity do you want to make when I am gone?
When reporting your capital gains, ask "could I do better, by giving a gift of stock to my beneficiaries while I am alive and avoid the gains." A trust may be a great way for you to plan for this kind of giving without completely disposing of the property today.
When reporting your health insurance on you state return, ask "Who will make medical decisions for me when I am unable to do it myself? Do these people know what decisions I would make? Will they be able to follow through? Will the doctors even give them the information they need to decide?" A carefully drafted health care proxy with health care directives incorporated may solve the problem. A separate HIPPA will avoid all the red tape and keep your loved ones out of court in attempting exercising the healthcare proxy.
Finally, when examining the line item that allows you to deduct gambling losses, but only to the extent of winnings, ask yourself. "Do I want to gamble with estate planning?" If you do not make plans, your property will pass, after probate, by the laws of intestate distribution (perhaps passing to distant relatives who you don't really like) and it may even
go to the state
itself.
If you would like help with your estate planning, you can
contact
the
Law Office of Isaac J. Mass
. Applying your tax return to your estate planning is a way to have peace of mind that next year when you do your taxes, you will know the answers to all the questions above.