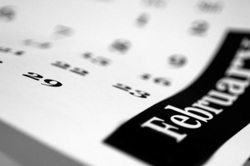 Every four years most people know that they get to vote for President, watch the Summer Olympics and have an extra day in February to get things done. For those who are incarcerated though it means an extra day in jail or prison.
The amount of days you will serve in the House of Correction or State Prison may depend on when you are sentenced. If you are held on bail or sentenced prior to February 29th on a leap year, you are likely to serve an extra day in jail if you are sentenced to a specific number of months or years in the House of Correction. This may also effect when you are eligible for parole. In 2006, the Massachusetts Appeals Court in Commonwealth v. Mello, 65 Mass.App.Ct. 674 (2006) overruled a trial judges approval of a motion to correct the mittimus and upheld the Massachusetts Department of Corrections policy of not crediting the extra leap day every four years.
John Mello had been convicted of the crimes of home invasion, assault and battery by means of a dangerous weapon, and armed assault in a dwelling house. He was sentenced to a term of ten years to ten years and one day on the home invasion conviction and to a concurrent term of four to six years on the armed assault in a dwelling house conviction. The defendant was also sentenced to five years probation for each of the three convictions of assault by means of a dangerous weapon, to be served concurrently on and after the completion of his State prison sentence. Mello sought two days of jail time credit for February 29th, 2000 and 2004.
The Appeal Court, however, found that the
legislature
"defined a "year" as a calendar year, not as a compilation of 365 days."
General Laws c. 4, § 7, Nineteenth, reads:
"In construing statues the following words shall have the meanings herein given, unless a contrary intention clearly appears:
" 'Month' shall mean a calendar month, except that, when used in a statute providing for punishment by imprisonment, one 'month' or a multiple thereof shall mean a period of thirty days or the corresponding multiple thereof;
a 'year', a calendar year
" (emphasis added).
It is vital when accepting a plea agreement in a leap year to negotiate for
a stay of execution until after February 29th or to seek a sentence which is for a term of days not months or years. Two days may not seem like a lot of time to most of us, but when you are incarcerated every day counts. If you have been arrested and face criminal charges, you should
contact
a lawyer who is familiar with how time in jail is calculated and credited. The
Law Office of Isaac J. Mass
represents criminal defendants zealously and advocates for them even on the smallest details which effect their lives;
contact
us for a free consultation.