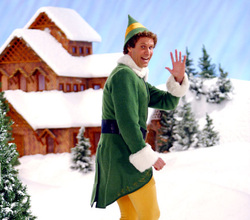 Saturday, December 22, 2012 at 10:00 a.m. the
Law Office of Isaac J. Mass
is hosting a free showing of the the holiday classic
Elf!
Tickets are first come first serve at the
Greenfield Garden Cinema
in beautiful, downtown Greenfield, just one block from the Law Office of Isaac J. Mass.
Staring Will Ferrell, Elf is the story of
Buddy, a baby in an orphanage who stowed away in Santa's sack and ended up at the North Pole. Later, as an adult human who happened to be raised by elves, Santa allows him to go to New York City to find his birth father, Walter Hobbs. Hobbs, on Santa's naughty list for being a heartless jerk, had no idea that Buddy was even born. Buddy, meanwhile, experiences the delights of New York City (and human culture) as only an elf can. When Walter's relationship with Buddy interferes with his job, he is forced to reevaluate his priorities.
The Law Office of Isaac J. Mass assists clients in many of the area discussed in the movie including adoption, child support, family law, defense for criminal mischief, assault and battery defense, disturbing the peace, disorderly conduct, and vandalism.
If you need a consultation because you've been on Santa's naughty list or if you simply have an elf of your own which you wish to adopt
call the Law Office of Isaac Mass at 413-774-0123 for a
consultation
.