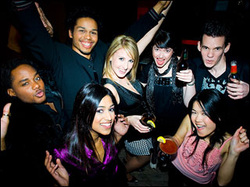 Juliano v. Simpson
, SJC-10843, 2012, the
Massachusetts Supreme Judicial Court
refused to expand social host liability to underage bring-your-own-beer parties.
On July 2, 2007, nineteen-year-old Jessica invited several friends, including nineteen-year-old Christian, to a party at her Wrentham home while her father was away. Christian attended with his sixteen-year-old girlfriend Rachel. On their way to the party, Christian obtained a "thirty-pack" of beer and a bottle of rum at a package store. They arrived at Jessica's home between 6 P.M. and 8 P.M., and Christian brought the booze into the house.
Over the course of the evening, Christian drank one or two mixed drinks and six or seven of the cans of the beer that he had brought to the party. Jessica drank beer as well, from a supply that she had obtained earlier. Although there were some alcoholic beverages belonging to Jessica's father in the house, Jessica neither consumed those beverages nor offered them to her guests. Jessica stayed in the company of her guests throughout the evening. At one point, an uninvited attendee began to engage in antagonistic behavior toward her, pouring beer onto the floor inside the house; Jessica ordered him to leave, and he did.
Sometime before 11 P.M., Christian and Rachel began to argue outside the house. They were loud enough to draw the attention of Jessica and several other guests. Rachel pushed Christian, and a friend of his intervened, removing him to another part of the property while Jessica spoke alone with Rachel. Soon afterward, Rachel and Christian prepared to leave the party. Concerned that Christian was still upset from the argument and that Rachel had drank too much alcohol to drive, Jessica suggested that she drive the two home. Rachel agreed not to drive herself, but Christian insisted that he take Rachel home. At approximately 11 P.M., the couple left the Jessica's House with Christian driving. Shortly thereafter, the automobile struck a utility pole, causing injuries to both teenagers.
The Massachusetts Supreme Judicial Court found that neither Jessica nor her Father were liable for the injuries to the two teenagers. In doing so they noted
Ulwick v. DeChristopher, 411 Mass. 401, 408 (1991)
, where the court "expressed doubt that a social host can effectively prevent a guest from drinking the guest's own supply of alcohol, in contrast to the host who furnishes liquor to guests." The court believes that those who furnish alcohol are, like a bartender, better situated to "shut off" guests who should not be drinking because of age or intoxication, and are expected to do so. The court found "a number of practical difficulties" in requiring a social hosts "to police the conduct of guests who drink their own liquor." The court noted that social hosts might be forced to kick out drunk guests making it more likely that they would drink and drive.
The court made no comment on the liability of the package store which provided the alcohol to Christian and Rachel in violation of the law. The package store may very well be liable. Also Christian is likely to be liable to Rachel for her injuries.
If you have been injured in an alcohol related incident and want more information about recovering for your injuries, medical expenses, lost wages, pain and suffering you can
contact
the
Law Office of Isaac J. Mass
. If your loved one has died as a result of an alcohol related incident you may have an action for wrongful death,
contact
the
Law Office of Isaac J. Mass
for more information. Attorney Mass can meet with you at his
Greenfield office
or come to you by appointment.
Today in the case of