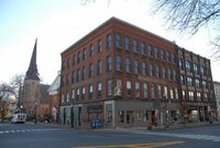 The Law Office of Isaac J. Mass
is moving.
We are proud to announce our new location in the
Greenfield Arts Block
.
We will now be at 289 Main Street Suite 201 in Greenfield Massachusetts 01301. While we will be fitting up the space in December, the firm will be in our new home January 1, 2012.This downtown location on the corner of Main Street and Court Square overlooks the picturesque
Greenfield Town Common, Farmer's Market and Civil War Memorial
dedicated by renowned poet
Fredrick Goddard Tuckerman
.
At the heart of Franklin County the southern windows overlook our neighbor, the
Greenfield Town Hall
, once Franklin County's second courthouse.
The third and today's Franklin County Courthouse (housing the
District Court
,
Superior Court
,
Family and Probate Court
, and
Registry of Deeds
) is only one block away from the other side of the common.
Down stairs from the Law Office of Isaac J. Mass is the
Arts Block Café
, the
Queen of Cups Tea Room
and the
Wheelhouse
.
A venue for great music and great food the Art's Block is a mixed use building that epitomizes smart growth urban development strategies.
Locals will know this as the former Clark's Sporting Goods Building.
Painstakingly restored to its nineteenth century grandeur, the 1869 building has long housed attorneys on the second floor.
Until its remodeling, passersby would see the windows stenciled with the black and gold lettering for previous attorneys who occupied the space.
The Law Office of Isaac J. Mass hopes to restore that historic look.
It is no coincidence that the Arts Block looked to Attorney Isaac J. Mass in filling this historic space.
The building which is owned by Global American Television, Inc. is managed by
Edward Wierzbowski
who is perhaps best known for bringing the popular television show
Law and Order to the former Soviet Union
.
Isaac Mass has a general practice that includes criminal defense work.
Mass got his start working as a student Assistant District Attorney and Appeals Intern in both the Hampden County and Northwestern District Attorney's offices.
In addition to private criminal defense, Attorney Mass is appointed to the Franklin County Bar Association Advocates list providing defense to indigent criminal defendants.
Mass also serves on the Committee for Public Counsel Services Post Conviction Panel where he works on criminal appeals.